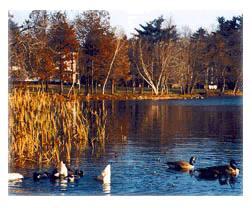 General Town Information
DATE OF INCORPORATION: September 25, 1730
TYPE OF GOVERNMENT: Open Town Meeting, Town Manager
TOTAL AREA: 17.08 square miles
COUNTY: Middlesex
POPULATION: 19,500
LOCATION: Northeastern Massachusetts. Bordered by Andover on the north, North Reading and Reading on the east, Woburn on the south, and Burlington, Billerica and Tewksbury on the west. Located 16 miles from Boston, 11 miles from Lowell, and 224 miles from New York City.
TOWN SERVICES: Town water, sewer in approximately 10% of the town, rubbish removal, fully staffed Police and Fire departments.
TOWN UTILITIES: Reading Municipal Light Department, Reading (electricity), Colonial Gas Company, Lowell (gas), Bell Atlantic (phone), Media One (cable)
LIBRARY: One, with approximately 87,000 volumes.
TRANSPORTATION: Two commuter rails to Boston provided by Massachusetts Bay Transportation Authority. Principal highways servicing the town are Interstate 93 and State Routes 38, 62, 125 and 129. Other major highways easily accessible include US Route 3, Interstate Routes 95 and 495, and State Route 128.
HOSPITALS: Winchester Hospital Family Medical Center, and several other hospitals within a ten-mile radius.